The first four photos were taken back in November (hence the Hina shot on the K8 calender). And this is actually not everything. For instance, I have several posters and wall scrolls, but they are hanging up and I didn't want to photograph each one. Plus, there are some things I have in storage and piled beneath other stuff and I really didn't have the patience to dig it all out.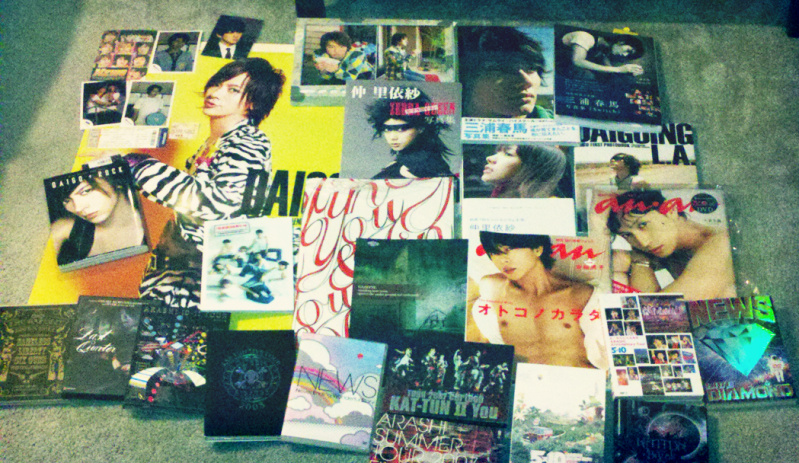 Japanese Musicians and Actors Related
Left half (left to right, top down):
NEWS flyer, 2 Ohkura shops, Yoko shop packet; Koyashige shop; ticket stop from Jin's first live in L.A.; ticket stub to "Gantz" in theaters; [big yellow thing] Daigo 2012 calendar; "Daigo Rock" photobook; K8 hologram thing.
right half:
K8 calendar 2009(?); 2 Miura Haruma "Letters" phobotbooks; Miura Haruma's "Switch" photobook; Naka Riisa's "Zebraqueen" photobook; Naka Riisa's "anno1989" photobook; Daigo's "DAIGOING L.A." photobook; Jin's "You N Jin" concert pamphlet; Gazette "Cockroach" era photobook; Sho's naked "An-an"; Ohkura's naked "An-an".
bottom (dvds):
Gazette - "NIL"; Last Quarter (HYDE); Arashi - "Scenes"; KAT-TUN - "Queen of Pirates"; News - "NEWS"; KAT-TUN - "II You"; Arashi - "Time"; Arashi - "5x10 PVS"; "Arashi - "5x10"; KAT-TUN - "Real Face"; News - "Live Diamond"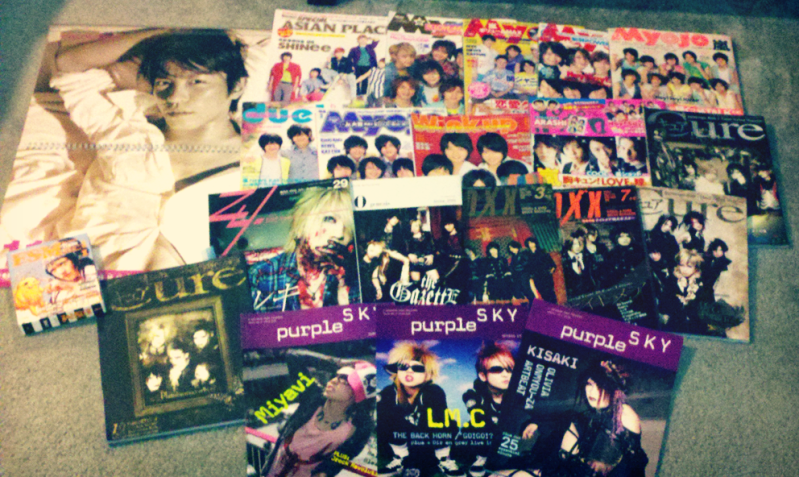 More J-Music
K8 2011-2012 calendar (currently on Novemeber); D[di:]'s "Fire Star Man" CD + booklet; pop/idol magazinessss; v-kei magazines;
Purple Sky
(a temporary US-based v-kei mag)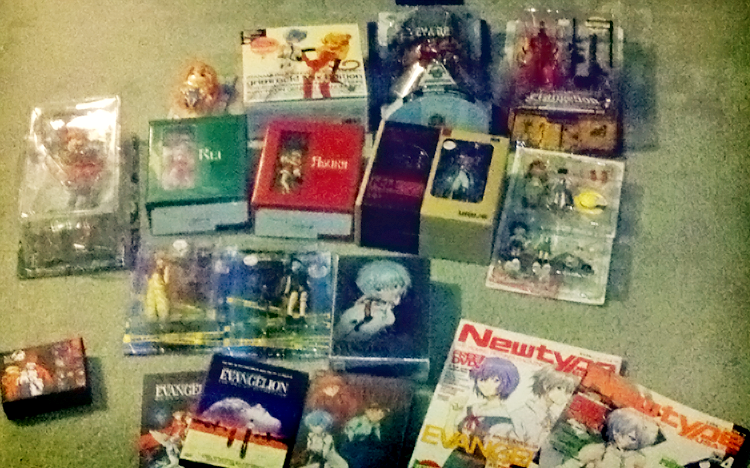 Part of my not-nearly-extensive-enough Evangelion Collection (I just could not get a good picture!)
Not all, but most. Action figures of Asuka, Rei, Unit-02, and a moe angel; a pair of Asuka's hairclips; Eva DVDs (platinum and regular); two "Newtypes" with front-page Eva stories.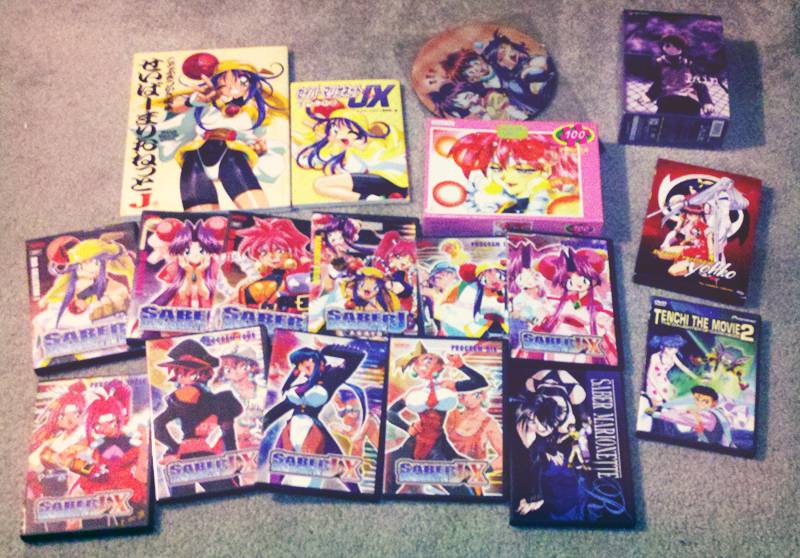 Saber Marionette Collectibles + Other Anime (not all, but these are the ones I care about the most)
Two photobooks, Bloodberry jigsaw puzzle (the most random thing ever); SMJ vol 1-3 DVDs; SMJ Again DVD; SMJ-X vol 1-6 DVDs; SMR DVD; Slayers mouse pad; Serial Experiments Lain DVD boxset; Devil Hunter Yohko DVD boxset; Tenchi Muyo Second Movie DVD.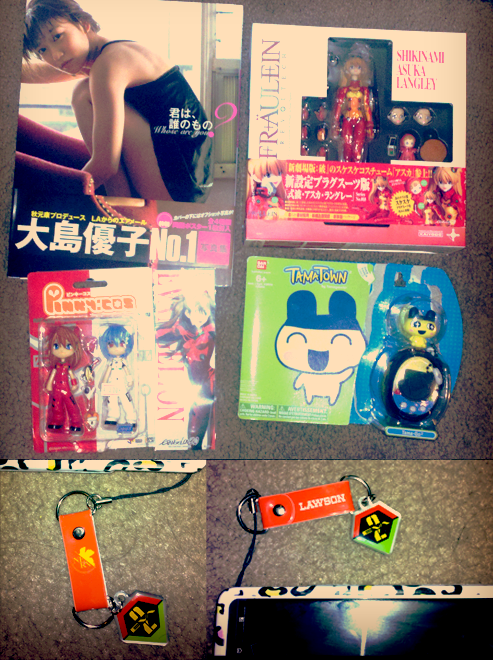 These are wonderful items my friend Liz brought back for me from her study-abroad in Japan.
Oshima Yuko's "Whose Are You?" photobook, Shinkami Asuka action figure, legit Asuka & Rei Pinkies!, Tamagotchi (this is actually a Christmas gift from John), and the front and back of a Unit-02 phone strap from Lawson.
Note
I shudder to think about adding up how much all of these have cost me over the years. A lot of them were gifts too. I'll update to this post with more pictures each time I get a sizable amount more stuff worthy of a photo. (I do have a few more things on the way~.)
I've always wanted to do this. I gathered all of my various Japanese fandom items and cataloged them to put on display. I am very, very proud of my collection and it grows bigger every year, :D. I might do a collection post of all my European/American fandoms, but those are very minor and I highly doubt anyone has an interest in them.
current mood:

accomplished